Since the 2004-05 lockout, the NHL has gotten faster, more skilled, and increasingly younger. This means that while teams need to draft and develop well, as they always have, it's also becoming essential — especially during this "flat cap era" — for rosters to leverage young talent on entry level-contracts.
In short, older players are being replaced by younger, cheaper options. Why pay a defenseman on your third pairing $2 million when a player on an entry-level contract could slot in with a cap hit of only $775,000?
The Tampa Bay Lightning laid down a good blueprint for this strategy during their 2019-20 Stanley Cup-winning season when Anthony Cirelli, Erik Cernak, and Mikhail Sergachev — all on entry-level deals — contributed to the team's championship run. In fact, that version of the Bolts had an average age of only 26.1. A far cry from where the NHL has come since, say, 2007-08 when the Stanley Cup champion Detroit Red Wings had an average age of 29.5.
Loading...
Now, of course teams don't want to bring players into the league simply because they are young and cheap. The true finesse is finding ways to insert young players into your lineup without rushing or hurting their development path.
Historically, the Jets have excelled at drafting and graduating prospects. Mark Scheifele, Adam Lowery, Connor Hellebuyck, Josh Morrissey, Nik Ehlers, and Kyle Connor are all Jets draft picks who've made up the core of a reasonably competitive team, missing the playoffs only once since the 2017-18 season.
In an effort to win, Cheveldayoff prioritized surrounding this group with experienced players, trading away draft picks for rental players or veterans on shorter-term contracts. This is totally acceptable when you're in "win now" mode, but this will inevitably have its consequences too. In the 2020 and 2021 drafts, the Jets only made eight combined selections – not exactly replenishing the prospect pool. And since 2017, Dylan Samberg has been the only Jets player to play an entire rookie season (although Cole Perfetti would have also accomplished this feat last year, too – if he remained healthy).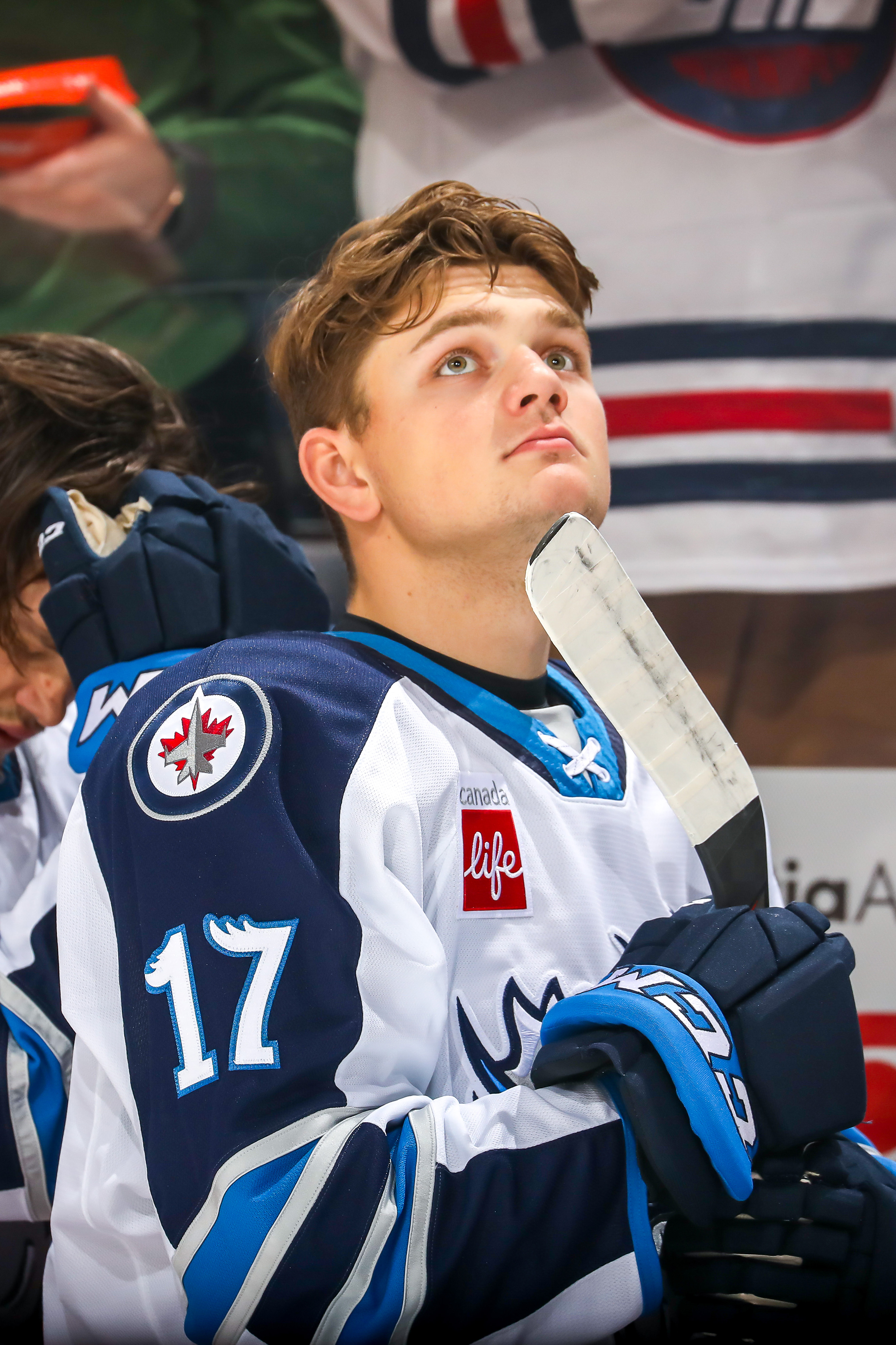 But with the departure of Pierre-Luc Dubois and Blake Wheeler and the uncertainty surrounding Mark Scheifele and Connor Hellebuyck, now may be the time for this retooling version of the Winnipeg Jets to embrace a youth movement again.
However, that can be easier said than done. There are several young players in the system whose chance at earning an NHL spot is currently blocked by aging veterans on multi-year deals.
Among those prospects is Ville Heinola. The 22-year-old, drafted in the first round in 2019, has only played 35 games for the Jets over four seasons but is ready to get a more extended look in the NHL after scoring 75 points and a plus-29 rating in 111 AHL games for the Moose. In short, he's been outstanding and deserving of a chance.
Not only would Heinola be an affordable option for the Jets blueline, but there's also the issue of asset management and player satisfaction. Frustration can build for players who've put in multiple seasons in the minors and believe they deserve an opportunity. True, the NHL is an elite league for the best of the best, but the Jets can't afford to alienate one of their top prospects by not rewarding his development with NHL games.
Loading...
Heinola spoke at his year-end presser about the grind of trying to get to the next level with the Jets, telling reporters, "This year, I feel, was kind of tough for me mentally. Kinda hoped to get more games up there. I played some games but really wanted to play more."
For Heinola to make the Jets, not only would he have to leapfrog Logan Stanley — another young defenseman who struggled to find a regular spot in the lineup last season — but also one of either Dylan Samberg or Brenden Dillon. Samberg is coming off a solid rookie season, so replacing or limiting his opportunity wouldn't make sense. But Dillon, who at 32 is the oldest player on the Jets' defensive core, enjoyed a bounce-back season last year and might be an intriguing acquisition option at the trade deadline for a team looking to add to their defensive depth for a playoff run. For the Jets to move Dillon and his $3.9 million salary at the deadline would most likely require them to either be on the outside of the playoff picture looking in or for Heinola to be unequivocally knocking at the door for a roster spot.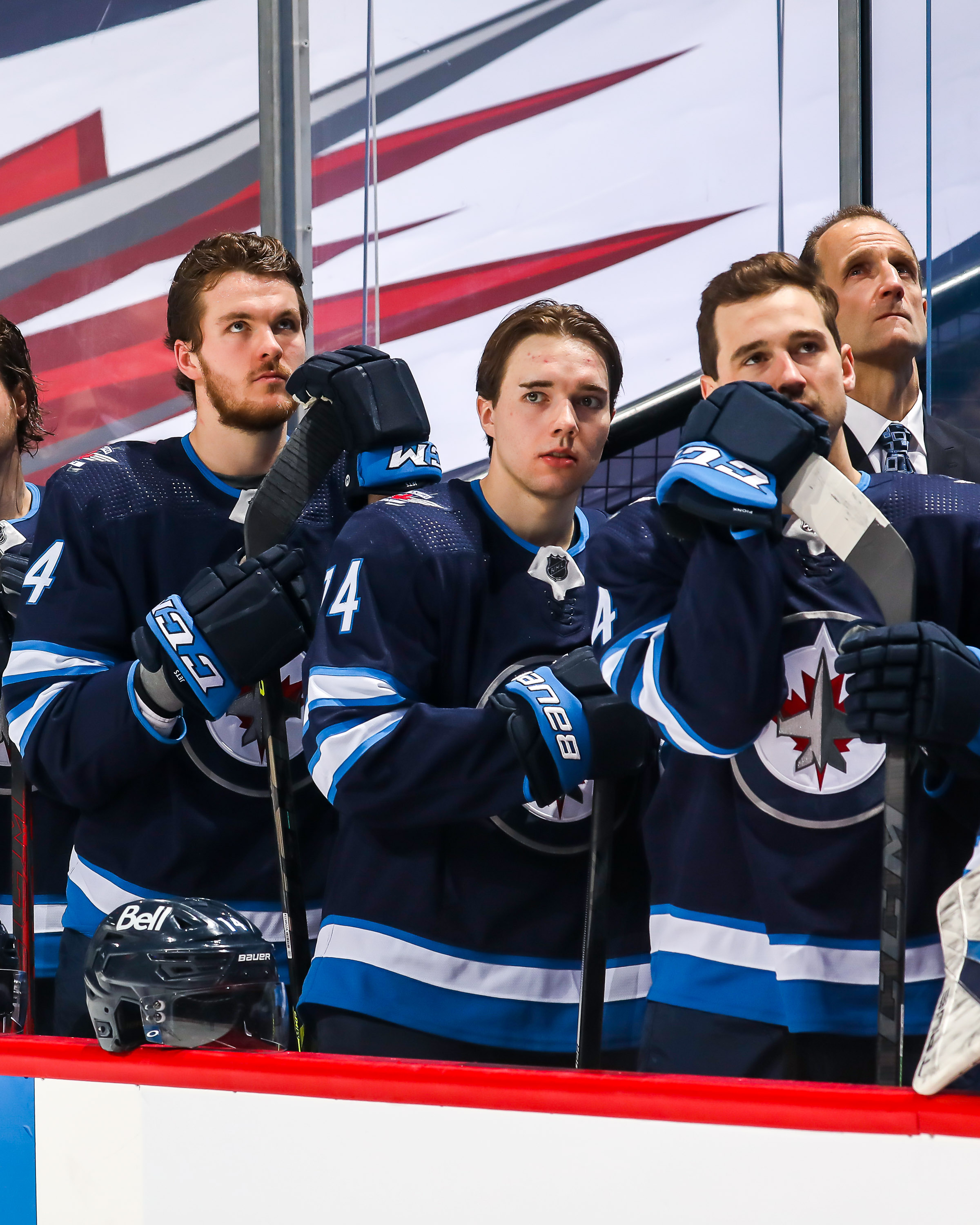 Another young, skilled Jets prospect that could be in line soon for an NHL opportunity is 23-year-old Declan Chisholm. Chisholm led Manitoba Moose defensemen in scoring last season with 43 points and earned an AHL All-Star selection. The left-handed defenseman can play either side and should, theoretically, get a long look at training camp. But once again, there appears to be little room. Instead, Nate Schmidt, who plays the right side, is being paid $5.95 million for the next two seasons to play a limited-minute third-pairing role.
While the Jets did acquire Schmidt from the Canucks at a time when they were in desperate need of NHL defensemen, there's no denying the fact now that his salary and place in the lineup could be far less expensive and provide an opportunity for youth to step in and fill that role. But again, maybe there's a chance for Cheveldayoff to move his contract, like Dillon's, at the deadline, even if the Jets need to retain a portion of it.
The point is that if the Jets embrace a youth movement and create a culture of rewarding young players with opportunity, they must have the roster flexibility to do so. And right now, their roster construction is making that a difficult task.
Loading...
Ideally, coming into training camp, there would be one or two roster spots up for grabs that high-end prospects and AHL talent could battle out for. Not only does this create a healthy culture of competition between players that can be crucial to reaching their potential, but it also shows the farm system pool of prospects that there is a conceivable path to the next level.
Despite a few years of trading multiple draft picks, the Jets have now made a combined 12 selections in the past two NHL entry drafts and boast a solid pool of young talent. This coming season several high-end drafted prospects like Chaz Lucius (first round, 2021), Nikita Chibrikov (second round, 2021), Dmitry Kuzmin (third round, 2021), and Brad Lambert (first round, 2022) should make the jump to the Manitoba Moose.
While ideally the Jets find a way to reward players like Ville Heinola and Declan Chisholm sooner rather than later, maybe the route towards a genuine youth movement is by preparing their roster to be more receptive — with space available — in the next three to four years for young players coming in. The answer isn't graduating these young players all at once or prematurely. Still, suppose Cheveldayoff can be cautious not to take on unneeded multi-year contracts over the next few seasons. In that case, that should allow space for the Chaz Lucius's and the Elias Salomonsson's of the Jets prospect system to graduate down the road.
Maybe the future isn't now. But it's on the horizon.