Quite clearly, Winnipeg's sports and entertainment scene was notably more vibrant throughout the 2022-23 season. Not only did two of the city's pre-eminent venues draw more than 1.2 million people downtown for hockey, concerts and other events at Canada Life Centre and the Burton Cummings Theatre, but the Burt had a milestone season hosting a record 101 shows which represents the most ever hosted during True North Sports + Entertainment's time managing the theatre (since 2014), and also likely in its history.
Thousands more gathered for ancillary Winnipeg Jets playoff events and for a busy calendar of community events in True North Square's plaza – from the Dale Hawerchuk statue unveiling to the Winnipeg Chamber of Commerce 150th anniversary celebration, Canada Life Centre pre-event parties, farmers markets, live musicians, Salsa Sundays, community yoga and more.
Winnipeg Jets and Manitoba Moose community initiatives were also in full force, returning to the activities and initiatives that connect the team to their fans and the community.
Loading...
True North reflected on the season through its 2022-23 Report to the Community, overviewing its commitment to downtown, the community and especially youth through the work of the True North Youth Foundation. Here are some highlights: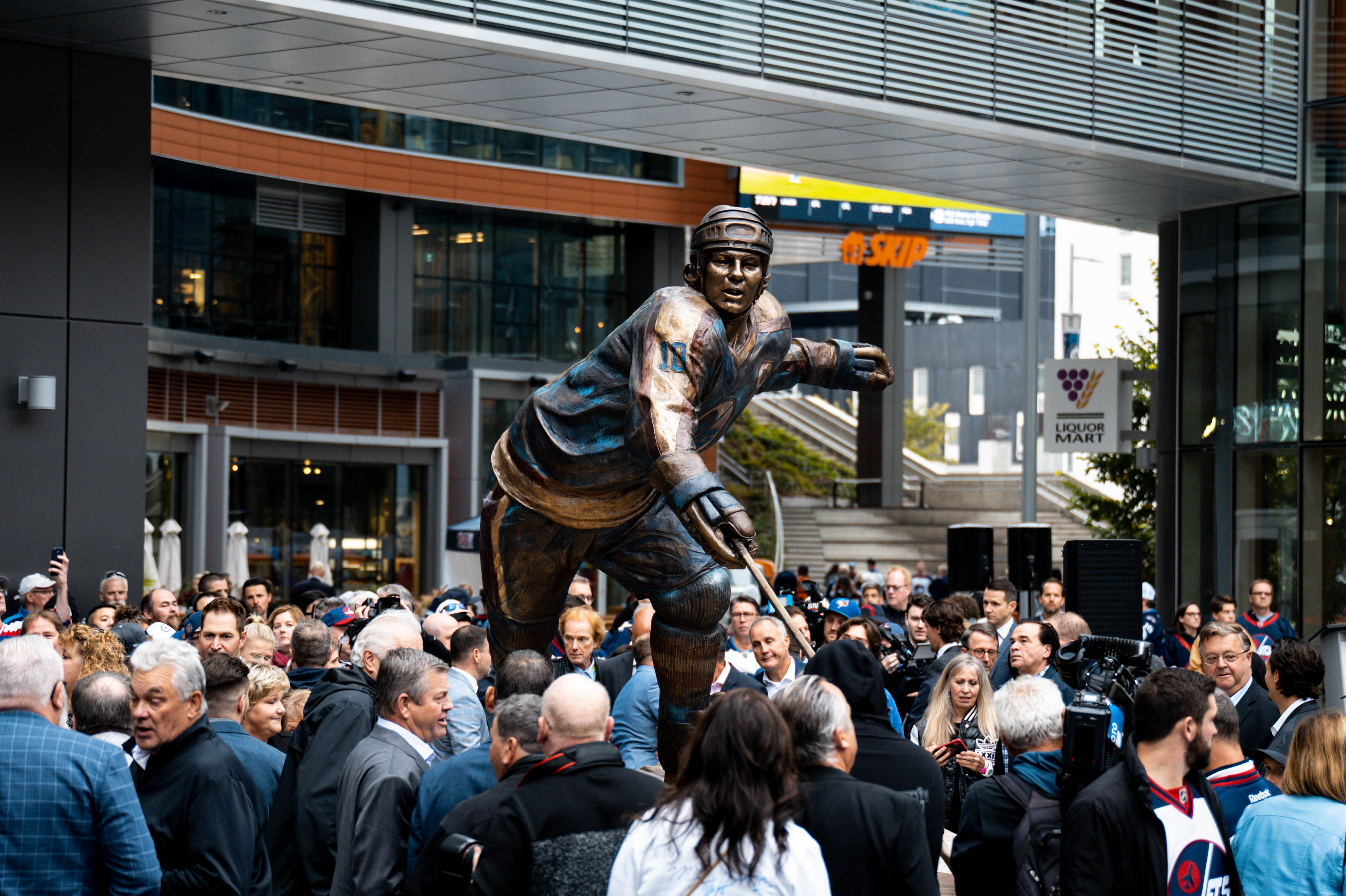 SPIRIT OF WINNIPEG AWARD
True North was the 2023 recipient of the Winnipeg Chamber of Commerce Spirit of Winnipeg Award, recognizing an outstanding effort and commitment to improving the city that began with the construction of the downtown arena, the return of the Winnipeg Jets and the development of True North Square. This community focus continued in 2022-23 with ongoing investment downtown and investment in youth through the programs of the True North Youth Foundation (TNYF).
PORTAGE PLACE REDEVELOPMENT
True North Real Estate Development is pursuing a transformative and purposeful redevelopment plan for Portage Place that will better serve and connect the downtown
community. Anchored by a leading Canadian Health Centre for Excellence and the Pan Am Centre for Advanced Musculoskeletal Medicine, housing, neighborhood services, food equity and green spaces, will create social and economic impact by providing access to much-needed services including physical fitness, childcare, community drop-ins and arts and culture.
$13M CANADA LIFE CENTRE RENOVATION
An off-season renovation has newly expanded the north concourse and enhanced premium spaces at Canada Life Centre. Among the changes is the transformation of three suites to introduce the latest trend in premium experiences. The elevated Premium concept, PlayNow Lounge features luxurious theatre-style seating, a private bar, in-seat service and an experience inclusive of food and non-alcoholic beverages.
CREATING COMMUNITY IMPACT AND EMPOWERING YOUTH
True North's robust community relations program works with organizations across the city to raise awareness and funds for a variety of charitable causes. This year, more than $378,000 was donated to local organizations with an additional $158,000 in fan donations and sponsorships invested in the community. Over 400 donation packages were also directed to organizations to enhance their fundraising efforts.
It was a banner year for the TNYF which, through the Winnipeg Jets Hockey Academy, proactive mental wellness program Project 11 and Camp Manitou, positively impacted more than 111,000 youth. This included supporting underserved youth with long-term hockey programming that provides mentorship and builds a sense of team and belonging; empowering students to constructively cope with stress and challenging emotions through classroom curriculum addressing mental wellness; and providing an inclusive space for adventure and learning where kids can challenge themselves and grow. The TNYF acknowledges the support of the community in being essential to this work – from donors, Jets and Moose 50/50 purchasers to the many community organizations who generously choose the foundation as the benefactor of their charitable events.
Loading...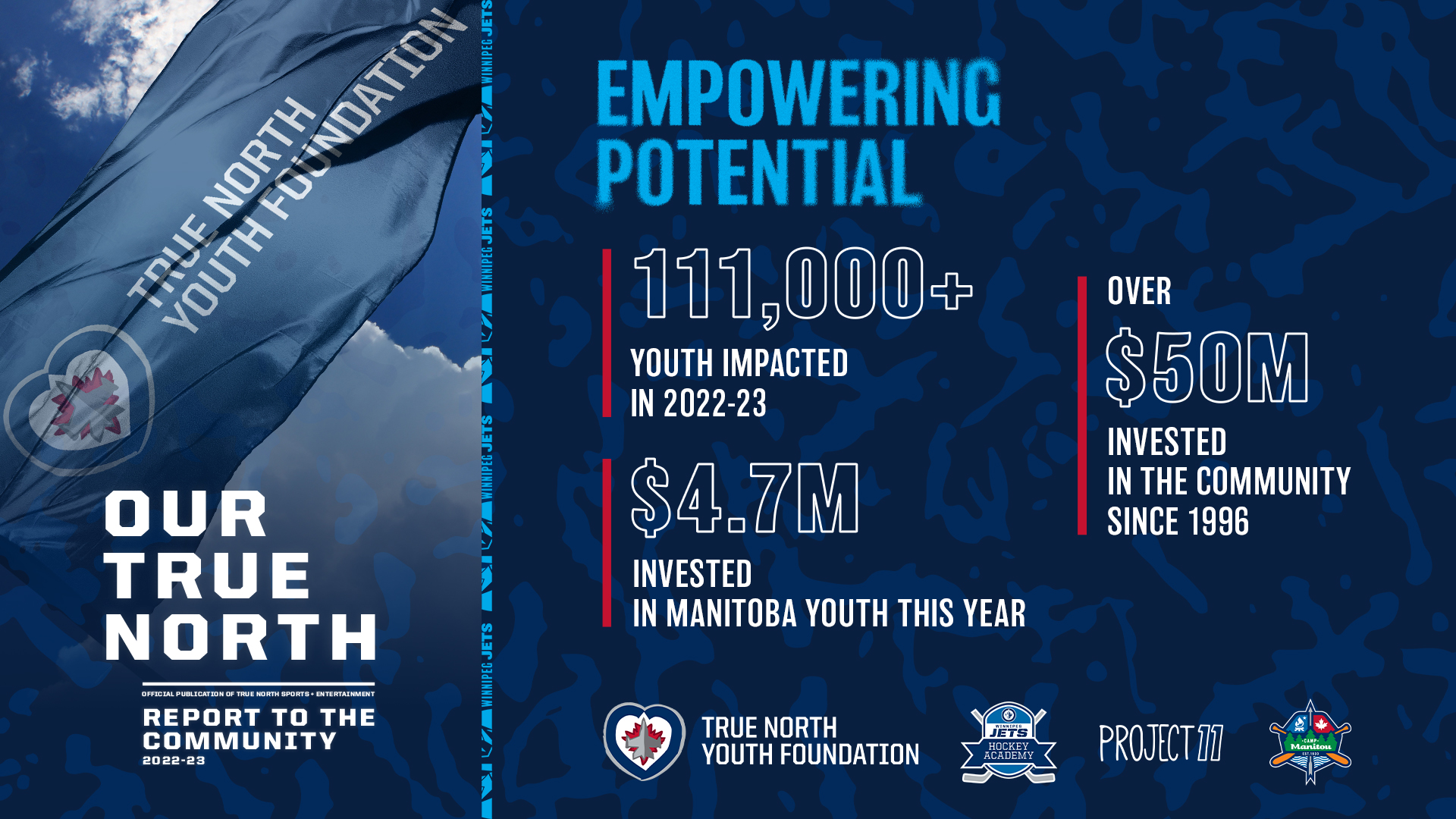 PLAYERS IN THE COMMUNITY
The Jets and Moose have an active roster of players who are engaged in the community. Two of the past season's standouts include the work of Manitoba Moose captain Jimmy Oligny and new Winnipeg Jets captain Adam Lowry. Despite facing injuries for the majority of the season, Oligny remained committed to the community and was honoured with the AHL's Yanick Dupré Memorial Award. Among his efforts was working with the Kinship and Foster Family Network of Manitoba to host foster families at Moose games. Lowry spent the season actively engaged as an ambassador for the Toba Centre. It's a role that has brought encouragement to kids who have faced child abuse and neglect, and awareness of Toba Centre's important work to support kids and families.
GROWING THE GAME
Anchored by the new South Asian Heritage Night and Filipino Heritage Night games, along with the Jets WASAC and Moose Follow Your Dreams Games, True North's efforts to grow the game include a new ball hockey activation featured at many summer cultural festivals giving kids the chance to play without the barriers of needing ice hockey equipment. Taking this a step further, hockey for all centre has collaborated with Apna Hockey and a group of community champions to host a new First Shift program to introduce new Canadian youth to the game.