On Wednesday, a selected collection of Winnipeg Jets rookies will hit the ice at the Hockey For All Centre in Winnipeg in preparation for the upcoming 2023 Young Stars Classic in Penticton, B.C. This season marks the eighth time that Winnipeg has taken part in the tournament, which helps the Jets — along with the Oilers, Flames, and Canucks — evaluate the talent in each of their respective prospect systems. The tournament will run from Sept. 15 – 18.
The Jets Young Stars roster will be led primarily by first round selections Brad Lambert (2022) and Chaz Lucius (2021) who return after taking part in the tournament last year. However, Jets fans will also get the chance to see several other notable prospects — suiting up in Jets blue for the very first time — when the team squares off on Sept. 15 against Edmonton.
Each Jets game will be available to stream on the Winnipeg Jets official website.
Loading...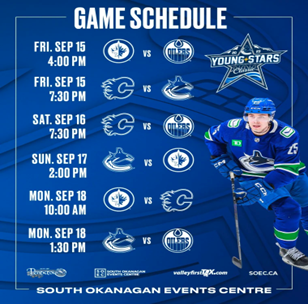 Among the Winnipeg prospects making their Young Stars debut will be notables Colby Barlow, Nikita Chibrikov, Elias Salomonsson, and Thomas Milic.
All eyes will no doubt be on Barlow who was selected 18th overall by the Jets in June after scoring an eye-popping 46 goals in just 59 games with the Owen Sound Attack. Look for Barlow to frequently use his biggest weapon at the tournament — his shot — off the rush or as a one-timer.
Chibrikov, who played last season in various Russian men's and junior leagues, will suit up for the Manitoba Moose in 2023-24 and should be able to showcase some of his high-end offensive skill against players of his own age at the Young Stars Classic. The Jets are looking forward to taking more of an active role in his development now that Chibrikov is in North America.
During his 18-year-old season, Salomonsson played almost a full season against men in the SHL, and is quickly becoming one of the Jets most promising defenseman prospects. He'll be headed back to Sweden to take on an even bigger role for Skelleftea AIK and further develop his overall defensive game.
Milic was selected as a 20-year-old by the Jets in the fifth round of this year's NHL draft after backstopping the WHL's Seattle Thunderbirds all the way to the final game of the Memorial Cup final. Continuing his path of success and development would be huge for a Jets prospect system that is relatively thin in goal. Milic will be sharing goaltending duties at the Young Stars with Domenic DiVincentiis who played in the tournament last year before winning OHL Goaltender of the Year for the North Bay Battalion. Both goaltenders could return for another CHL season in 2023-24.