It might be summer, but we know it won't be long before hockey-starved fans start counting down the days until their home team hits the ice. And with Jets games being so much more than what happens on the ice; Jets fans there's a lot to be excited for in 2023-24.
Taking in a Winnipeg Jets game is about being part of a broader fan community. Connecting with friends on the concourse, and taking in all the complementary sights, sounds and entertainment from on-ice projection to DJs, the pre-game parties and more.
There's even more to look forward to in off-ice entertainment as the Jets have loaded up their 2023-24 schedule with promo nights that will give fans the chance to both celebrate and give back to the community.
Loading...
The Jets will debut three new initiatives during the 2023-24 season:
HALLOWEEN GAME – MONDAY, OCT. 30 @ 6:30 P.M. VS. NEW YORK RANGERS
Double your Halloween fun with a bonus night of costumes, tricks and treats at the Jets Halloween game.
MOOSE NIGHT – THURSDAY, NOV. 9 @ 7 P.M. VS. NASHVILLE PREDATORS
In collaboration with their AHL affiliate, the Jets will recognize the special relationship between the Jets and Manitoba Moose. The game will honour Moose alumni and AHL graduates who went on to play with the Jets, as well as involve some current Moose players.
BEAT THE WINTER BLUES NIGHT – TUESDAY, JAN. 9 @ 7 P.M. VS. COLUMBUS BLUE JACKETS
Enjoy the perfect post-holiday pick-me-up in mid-January with a sun-filled escape from the cold right in the Canada Life Centre!
Loading...
CULTURAL NIGHTS
Manitoba is a diverse community with people from a variety of cultures and backgrounds calling our province home. The Jets will continue to honour several prominent cultures in our province and city throughout the season, while also raising funds to benefit those communities.
SOUTH ASIAN HERITAGE NIGHT – SATURDAY, DEC. 16 @ 6 P.M. VS. COLORADO AVALANCHE
Bhangra dancing and butter chicken will be on tap in celebration of Manitoba's South Asian community. It will be the second South Asian Heritage Night after the sights and sounds of South Asia brought a festive atmosphere to the Canada Life Centre last season.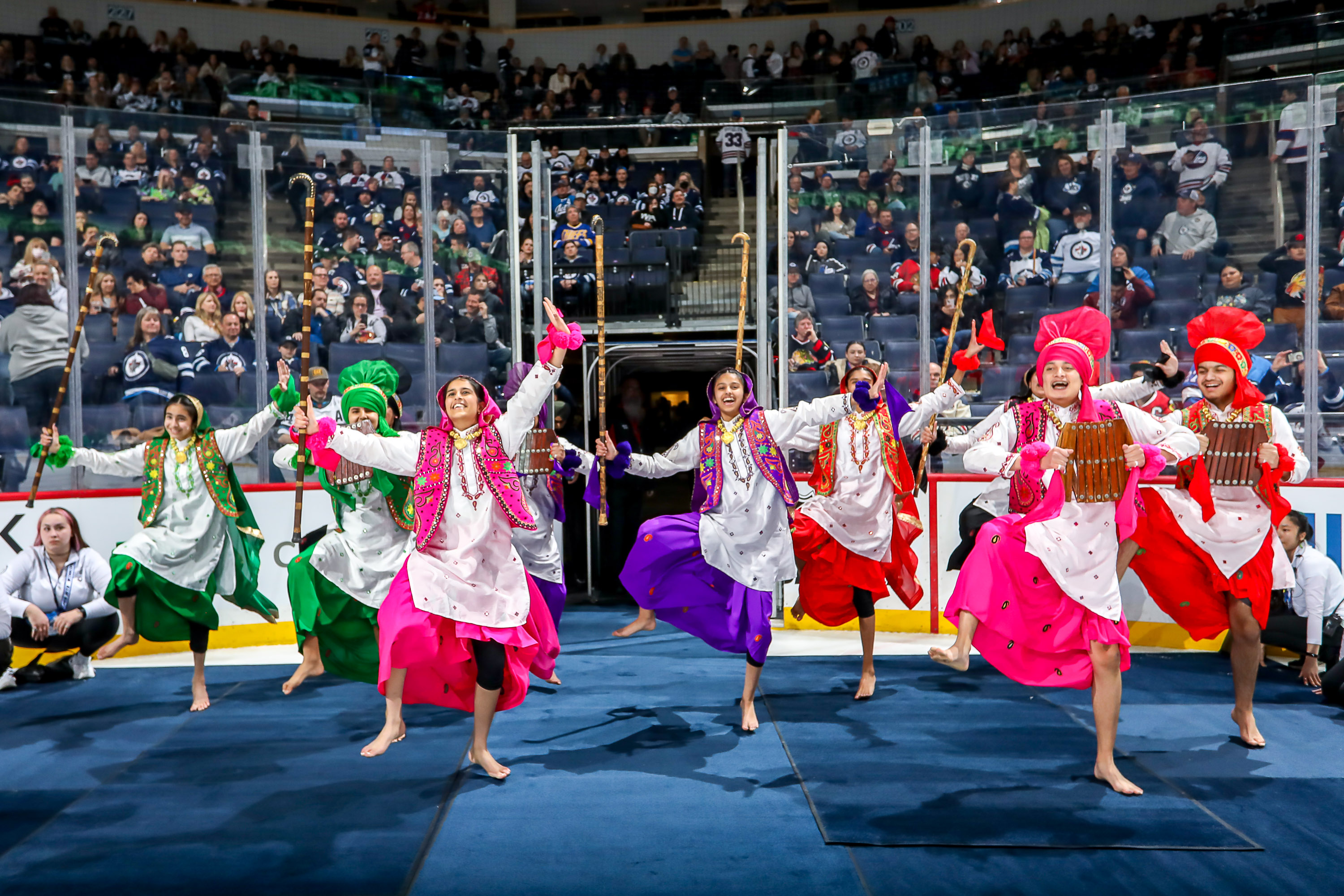 FILIPINO HERITAGE NIGHT – SATURDAY, JAN. 13 @ 6 P.M. VS. PHILADELPHIA FLYERS
The Filipino community will have their turn to throw a party in January, and you can count on great music, entertainment, food and of course, hockey!
Loading...
BLACK HISTORY GAME – TUESDAY, FEB. 20 @ 7 P.M. VS. MINNESOTA WILD
The Jets will look to grow their community collaborations and partnership with Black History Manitoba to celebrate the team's second Black History Game.
WASAC NIGHT – SUNDAY, FEB. 25 @ 5 P.M. VS. ARIZONA COYOTES
For the past five seasons, WASAC (Winnipeg Aboriginal Sport Achievement Centre) Night has provided a meaningful setting to celebrate Manitoba's Indigenous communities through drumming, jigging, throat singing and more. The Jets look forward to celebrating even more Indigenous traditions and culture through youth and elders and will continue to raise funds for WASAC through the WASAC retail program.
COMMUNITY IMPACT NIGHTS
Making meaningful contributions to the community is at the heart of True North's mission, and the Jets will support many organizations and initiatives including through the following games:
Loading...
CHILD ADVOCACY GAME – TUESDAY, OCT. 24 @ 7:45 P.M. VS. ST. LOUIS BLUES
In recognition of Child Advocacy Month and in partnership with Toba Centre, the Child Advocacy Game returns for a second year to raise awareness for their important work to support victims and families of child abuse.
PRIDE NIGHT – FRIDAY, NOV. 17 @ 7 P.M. VS. BUFFALO SABRES
Pride Night returns to promote hockey as a sport for all and show that all are welcome to play and participate.
HOCKEY FIGHTS CANCER – TUESDAY, NOV. 28 @ 7 P.M. VS. DALLAS STARS
Loading...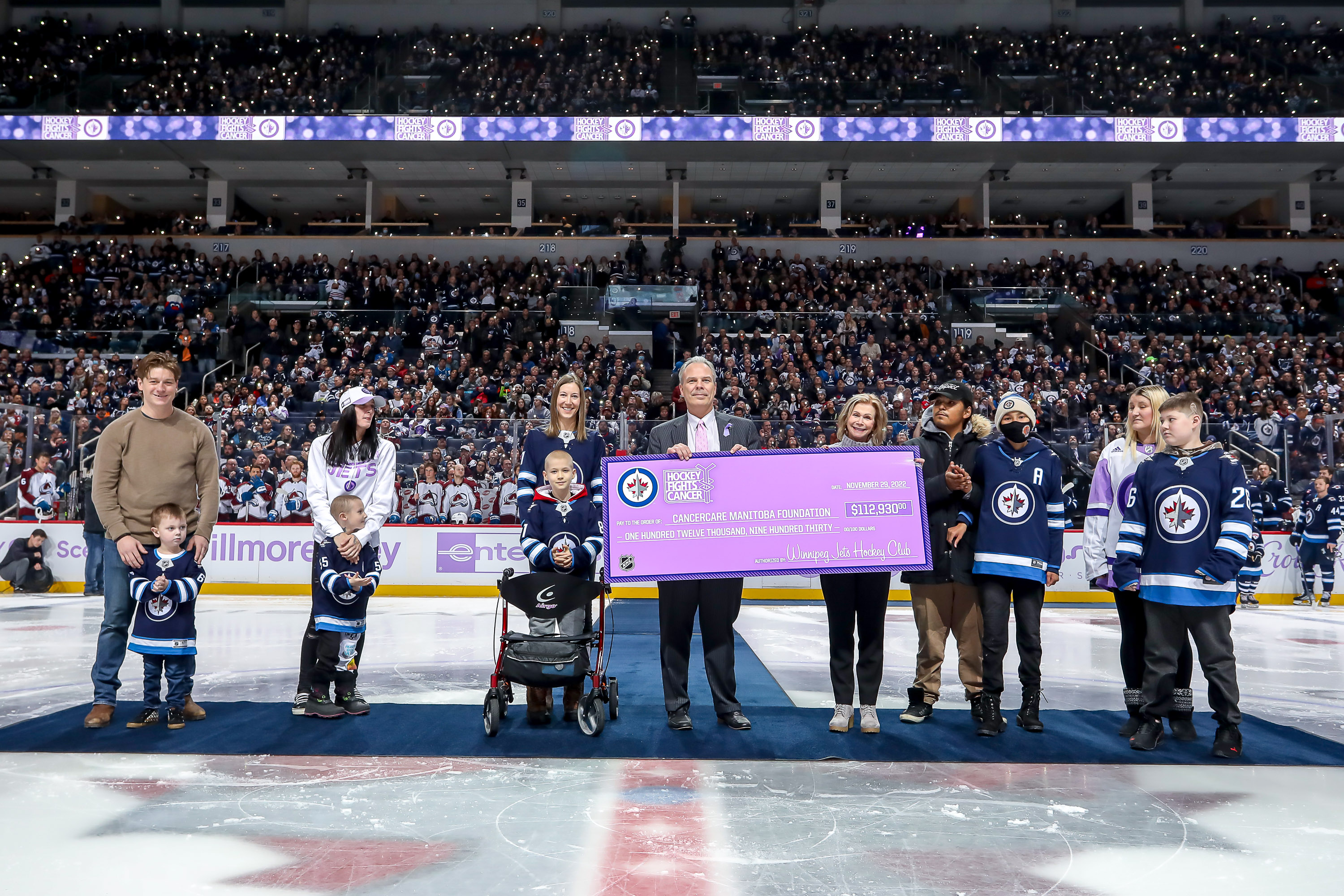 The Jets will cap their month-long Hockey Fights Cancer campaign in support of the CancerCare Manitoba Foundation pediatric clinical trials with an emotional game honouring a group of Manitoba kids who have been directly impacted by the generosity of fans through the HFC initiative.
#HOCKEYTALKS GAME – TUESDAY, JAN. 16 @ 7 P.M. VS. NEW YORK ISLANDERS
January's #HockeyTalks game is an especially important initiative for the Jets and puts the True North Youth Foundation's Project 11 front and centre in promoting mental wellness for all.
RETURNING FAVOURITES
The list of can't-miss games continues with other fan-favourite games at Canada Life Centre:
CANADIAN ARMED FORCES GAME – SATURDAY, DEC. 2 @ 2 P.M. VS. CHICAGO BLACKHAWKS
Loading...
This year's Canadian Armed Forces Night provides an extra special salute to those who serve our country as part of the RCAF's 100th anniversary. The first 5,000 fans will also take home a special Jets x RCAF mini stick.
CELEBRATING WOMEN IN SPORT GAME – TUESDAY, MARCH 5 @ 7 P.M. VS. SEATTLE KRAKEN
The Jets will turn the focus to women impacting the game of hockey both on and off the ice through their Celebrating Women in Sport Game in March.
FAN APPRECIATION GAME – SATURDAY, MARCH 30 @ 6 P.M. VS. OTTAWA SENATORS
Plenty of prizes will be on hand to thank the best fans in the NHL at the Fan Appreciation Game near the end of the season.
Loading...
90S NIGHT – THURSDAY, APRIL 18 @ 7 P.M. VS. VANCOUVER CANUCKS
The Jets will finish their season on home ice with a 90s party, so make sure to bring your windbreakers and fanny packs! Fans now have advance access to single-game tickets for select promo games this summer before the general on-sale of single-game tickets – use the QR code to get yours now. Winnipeg Jets Game Packs are on sale in August with single-game tickets for all 41 regular season home games available in September at WinnipegJets.com/TICKETS.