Chances are you will feel more welcome doing something or going somewhere new if you are shown that you are welcome. That's the approach the Winnipeg Jets take in showing that the sport of hockey is for everyone – including cultures that have traditionally not been associated with the sport.
This has taken shape through special games over the past several seasons, starting with WASAC (Winnipeg Aboriginal Sport Achievement Centre) Night in 2019, and now including Filipino Heritage Night and South Asian Heritage Night which started this past season. These games serve to show that all are welcome in hockey by celebrating what makes each of those specific cultures unique, including music, dance and food, and even by incorporating cultural art and symbolism in specially designed Jets logos.
While those elements are important in creating a welcoming space for various cultures, the efforts can't stop with recognition at a hockey game one night a year – and they haven't for the Winnipeg Jets and the larger True North organization. The team has engaged with Manitoba's Indigenous community in a variety of ways, like hosting youth from northern and remote Indigenous communities during their WASAC and Follow Your Dreams weekend each year, visiting and collaborating with Indigenous-owned and operated restaurant Feast, collaborating with the First Nations Family Advocate Office for National Day for Truth and Reconciliation programming and more. This summer, the Jets are looking to build similar relationships within Manitoba's Filipino and South Asian communities through ball hockey.
Loading...
"If we want people to engage in hockey, we need to make it accessible to them," said Ali Dewji, True North's co-ordinator of multicultural initiatives, who has been planning the ball hockey events. "For something to be accessible, you need to remove as many barriers as possible, which we're trying to do with our ball hockey initiative."
Those wanting to participate in the ball hockey events really just have to bring themselves. The Jets create the playing surface and bring all the equipment, from nets to sticks and balls, and even t-shirt jerseys for participants.
Perhaps the most important barrier they're eliminating is the need to be able to skate. With no ice, if a participant can run, they can play ball hockey.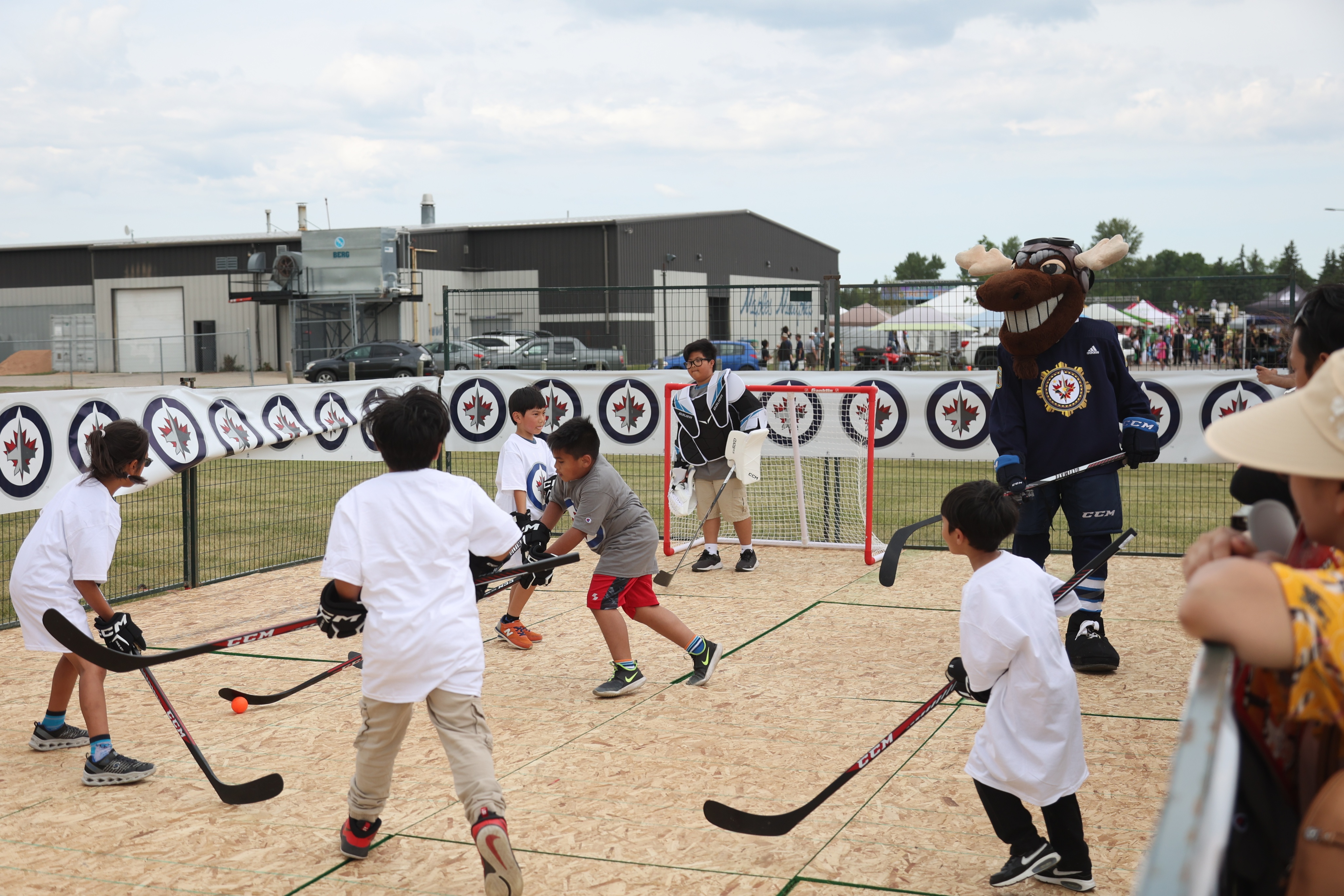 The first ball hockey initiative the Jets put on was at the end of June as part of the Filipino Street Festival – Manitoba's largest gathering of the Filipino community (though all are welcome of course). The festival, which returned in 2023 for the first time since the pandemic, has always included a parade and plenty of Filipino culture through musical and dance performances, along with lots of great food.
The addition of ball hockey was new for organizers.
"Basketball is the number one sport in the Philippines, and there aren't really a lot of hockey rinks in the country, except for in one big mall," said Ley Navarro, Filipino Street Festival chairman.
But for Filipinos in Canada, the sport is becoming more and more popular thanks to how much Canada loves the game.
Loading...
"The Filipino community is excited to have the Winnipeg Jets engaging with them," said Navarro, speaking on both the ball hockey efforts and Filipino Heritage Night. "Hockey is so popular in Canada, and many in our community want to watch hockey. Traditionally, though, few have played. We see this as an opportunity to encourage young people to take up the game."
And while hockey is an important focus for the Jets, it's also an avenue to much greater goals.
"At first, it may just look like we're teaching kids to play hockey, but what we're really looking to do is promote inclusivity, diversity, and cultural understanding both within the sport and in our society in general," noted Dewji. "Manitoba is a place that people of many cultures call home, and though we may each be different in our own way, we have plenty in common that is worth celebrating. A sport like hockey and some fun competition are great ways to break down those barriers."
Bringing ball hockey to the Filipino Street Festival was just the start. The Jets ball hockey set-up was also featured at the Treaty One 2023 Anishinaabe Days at Naawi-Oodena (Kapyong Barracks) at the end of July, and will be at a Punjabi Community Health Services Manitoba Friends and Family event in late August.
Filipino Heritage Night, South Asian Heritage Night, and WASAC Night all return for the 2023-24 Winnipeg Jets season, among many other great promotional nights. Check out the full schedule of Jets promo games at WinnipegJets.com/ PROMOS, and purchase your tickets now with full, half, or quarter season ticket memberships at Winnipeg Jets.com/TICKETS.