For the first time in 12 months, the Jets have a captain. Thirty-year-old Adam Lowry will wear the "C" for Winnipeg to start the 2023-24 NHL season after the team went without one last year.
Lowry will be taking on a Jets leadership role during a time of significant transition and uncertainty for the franchise. After being bounced from the first round of the playoffs last spring in five games to the eventual Stanley Cup champion Vegas Golden Knights, Winnipeg has had an offseason of change. The departure of Blake Wheeler and Pierre-Luc Dubois not only made room for new players, but new leadership. Still, the task at hand for Lowry and the remaining leadership core remains the same. Win now.
"You work hard to get into the playoffs and anything can happen," Lowry told reporters during a post game interview after the game five loss to Vegas.
Loading...
Last season, Lowry was an integral part of the Jets making the playoffs (albeit stumbling in) by having a career year of his own. After being named an alternate captain for the first time by the franchise that selected him 67th overall in the 2011 NHL Draft, Lowry put up 36 points over a full 82-game season — all while being tasked with a shut-down defensive role.
But, unfortunately, for the Jets, even though they made the playoffs, the "anything can happen" scenario was not to be. In fact, after their early exit, the negativity surrounding being eliminated was only exacerbated when head coach Rick Bowness called out much of the Jets' leadership group, saying he was "disappointed and disgusted."
"There has to be pride," Bowness said. "You have to be able to push back when things aren't going your way. We had no pushback."
But Lowry, however, wasn't one of the players that Bowness was indirectly referring to. That's because, to anyone even passively watching the series, it was evident that big number 17 was at least one Jet who was willing to go through a wall during that series. Not only did Lowry consistently bring an element of physicality that's so vital to competing in the playoffs, he also stepped up offensively throughout, especially when the team needed a difference-maker.
In game one against Vegas, Lowry scored two goals to propel the Jets to a (short-lived) series lead. And in game three, he tied the contest in the third period with only seconds remaining to send it to overtime. Although at the end of the series, it wasn't enough for the Jets to advance, Lowry finished the playoffs with a team-leading four goals and added an assist in a third-line role. In short, he left it all on the ice.
"He puts his heart and his soul into every shift and it shows," Bowness told the Winnipeg Free Press. "He's a big, mean, physical guy out there. He's one tough guy to play against. He does so many little things to help this team win that he's invaluable to this team."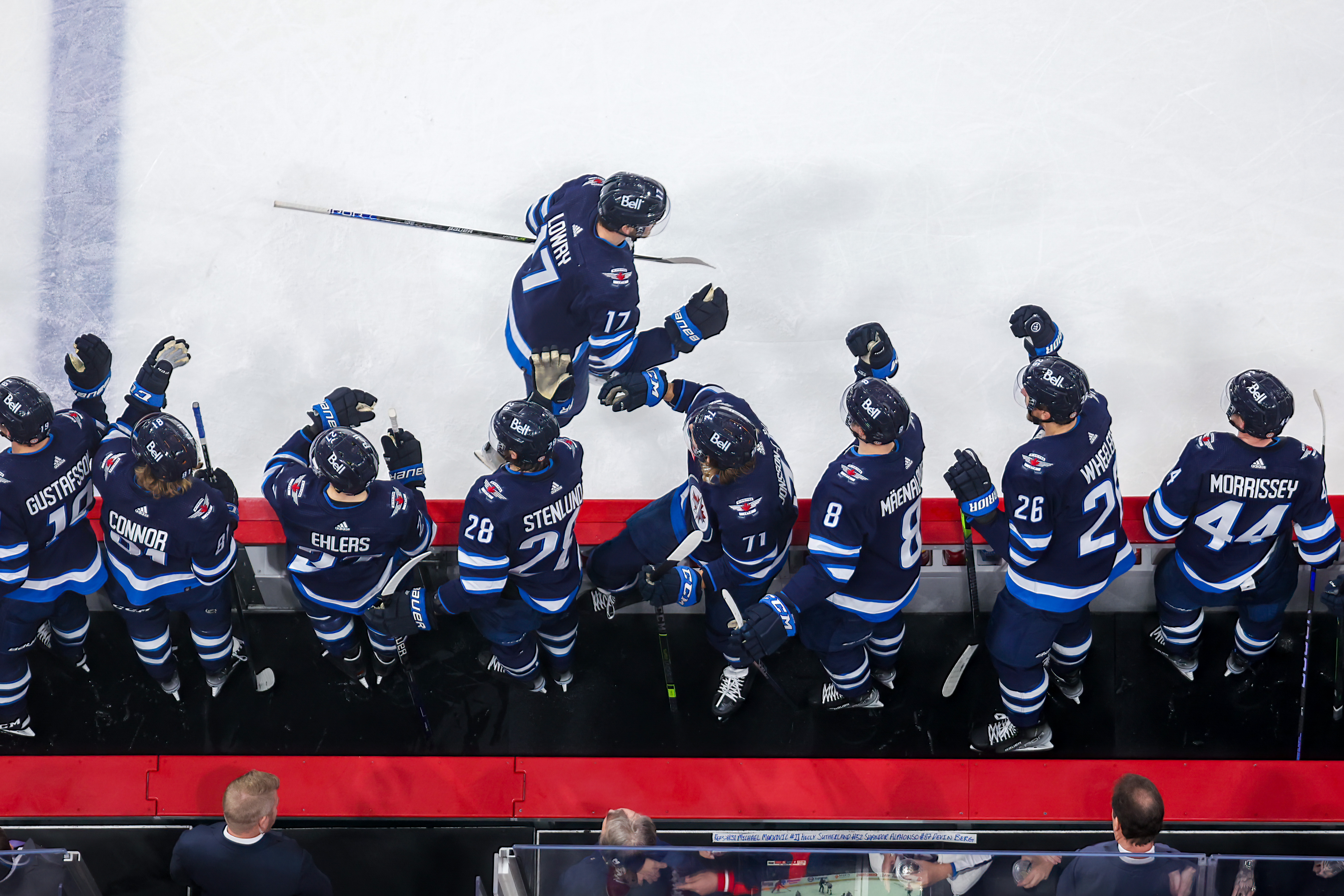 But still, even given Lowry's overall importance to the Winnipeg Jets, it's interesting to note that he doesn't resemble much of the current crop of captains around the league. He isn't a superstar like Sidney Crosby or Connor McDavid, or even a first-line player like Dylan Larkin or Logan Couture. And he doesn't produce offense like Mark Stone or Nico Hischier.
Loading...
But maybe that's not what the Jets need right now in a leader.
And admittedly so, there are teams that view the role of a captain as necessitating qualities other than being the top scorer. *See Carolina's Jordan Stall or Columbus's Boone Jenner.
So, after reflecting on last season in which the Jets locker room was widely reported as being shrouded in negativity and division, it's perfectly reasonable to see why someone like Lowry — whose M.O revolves around high character, accountability, and a team-first attitude — is exactly what this team needs.
Similar to his father Dave Lowry who played over 1,000 games in the NHL, Adam has the tireless work ethic — on and off the ice — of a consummate pro. Being brought up around the game clearly instilled a deep understanding of the intangibles that a hockey club needs, especially within its locker room, to gel as a competitive unit. And, although we're going back to his junior days here, Lowry's worn the C before. In 2012-13, he put up 88 points in 72 games as the Swift Current Broncos' captain. Worth mentioning, no?
Anyway, although the offensive flashiness may not be there for the NHL version of Adam Lowry, Jets fans know exactly what to expect from him game to game.
Loading...
Heavily and consistently, he sets the tone of games early on with his aggressiveness on the forecheck. According to allthreezones.com, Lowry registered the 14th-most forecheck pressures per 60 minutes during 5-on-5 last season league-wide. He also ranked second on the Jets in hits with 161. But even though he plays a physical brand of hockey, Lowry doesn't run around undisciplined to do so. In fact, would you believe he only took nine minor penalties in 82 games last year?
But, that being said, if the situation calls for it, the 6 foot 5-inch centermen definitely isn't afraid to step up for teammates. Last season, Lowry had more than one notable scrap against legitimate NHL heavyweights. For example, after Tanner Jeannot injured Nate Schmidt on a hit in a December game, Lowry held him accountable. He did the same in April against the formidable Ryan Reaves after the Wild enforcer buried Dylan DeMelo from behind.
But Lowry's true value to the Jets will always be his elite defensive awareness. A trait that, now after being named captain, the Jets hope will trickle down throughout their lineup and begin to shape their team identity. Last season, although Lowry garnered the toughest matchups against the opposing team's top lines, he still held a net-positive Corsi For rating (meaning the Jets controlled the puck more often than not when he was on the ice). And moreover, his most regular line, featuring Morgan Barron and Mason Appleton flanking his wings, boasted a higher xGoals For Per 60 (2.98) than xGoals Against Per 60 (2.13). Another net-positive.
Looking forward to this season the Jets' new-look roster could have an intriguing variety of line possibilities. While Lowry still realistically remains a staple on the third line and penalty kill, as he has in the past, there's a chance he could be deployed regularly at even-strength with Nino Niederreiter and newcomer Alex Iafallo, both of whom have shown offensive upside throughout their career.
If Lowry can improve even minorly on his shooting percentage and maybe even receive spot duty as a net-front-presence on the powerplay, it wouldn't be out of the realm of possibility for the ten-year vet to push upwards of 40 to 45 points.
Loading...
But, let's not get carried away for now. The point is, the Jets made a commendable, albeit safe, call, naming Lowry captain. He still has three seasons remaining on a five-year, $3.25 million annual average contract, there's no questioning his character, and, let's be honest, if there's any Jet capable of giving a William Wallace-esque speech, it's gotta be Adam Lowry, right?