THIS PAST SUMMER, KAIDEN DELA CRUZ SUFFERED THE TYPE OF INJURY THAT CAN END A HOCKEY DREAM.
In fact, for the 17-year-old Winnipeg Thrashers defenceman, it was the type of injury that can make living every day a lot more difficult.
And yet, despite the setback, Dela Cruz hasn't missed a beat. With the help of friends, family and Winnipeg Jets assistant equipment manager Mark Grehan, he's back taking a regular turn on the point with the U18 AAA Thrashers.
Loading...
The accident itself was kind of gruesome.
"Me and my brother Sage were at Victoria Beach," Kaiden explained. "We were in an ATV side-by-side in the sand dunes. We were messing around, but not anything too crazy and we were on hard sand, almost like concrete. Sage put his foot on the pedal and turned left but he kind of turned a little sharp and something caught under the tire and the ATV flipped onto the passenger's side where I was sitting. I automatically grabbed the roll-bar and the roll just crushed my fingers."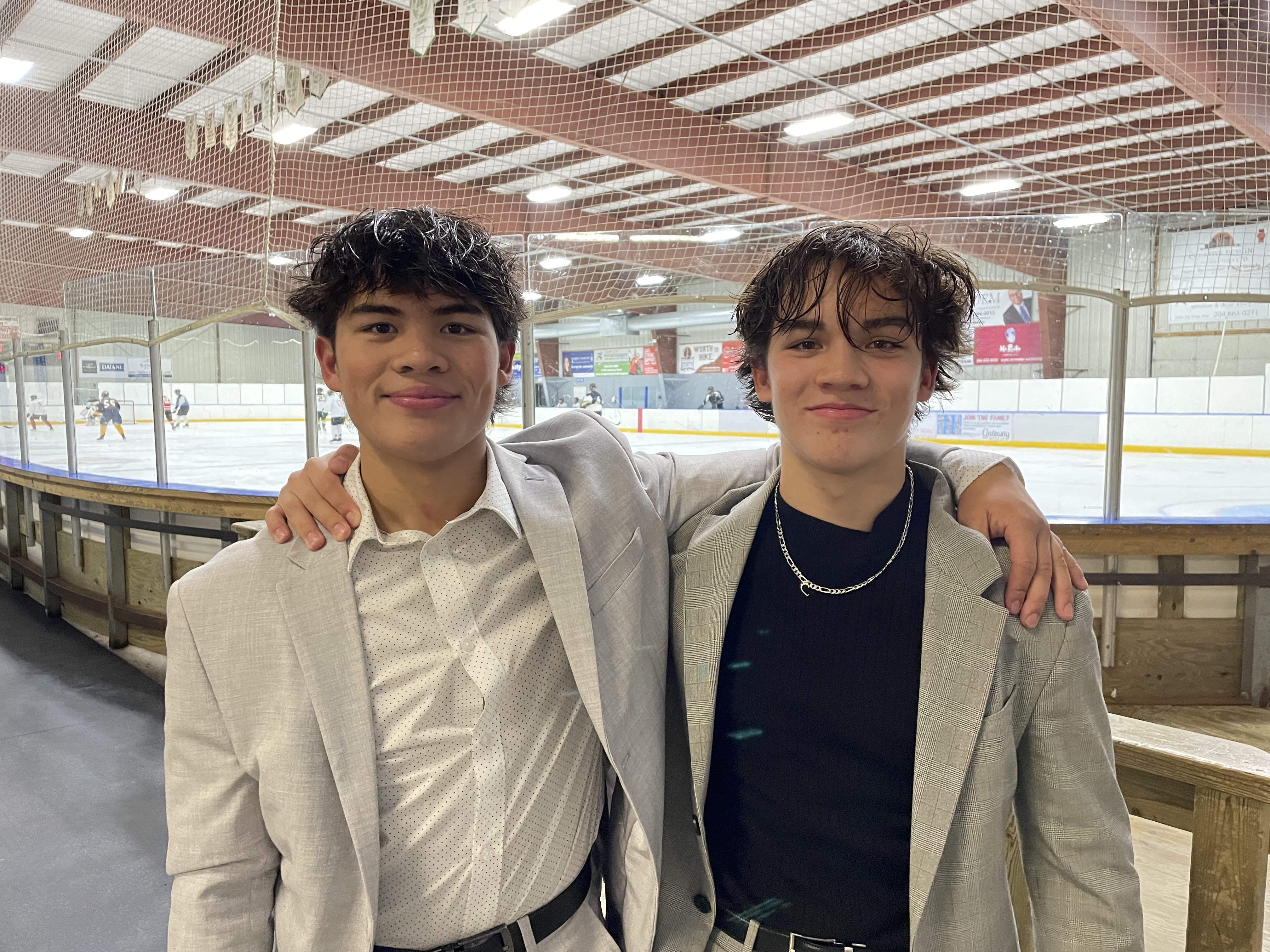 Kaiden lost the baby finger and ring finger on his right hand and his middle finger was lost just above the knuckle. "That night, when I got home from the doctor's, I was pretty devastated, but the next few weeks, I got right into physio and spent plenty of time talking to the doctor about what was going to happen," he said. "I went to physio two-three times a week to get my grip strength better and get more movement in my fingers. Within the first week, I was back on the ice skating, not using too much of my hand.
"Two or three weeks in, I started shooting. I got cleared by the doctor a month in and could start gripping. My dad, John, made a custom glove for me. He did a pretty good job. He bought all the sewing stuff and did it himself."
Then, in mid-September, he met up with Grehan, the Jets assistant equipment manager. Grehan immediately went to work making Kaiden a new glove.
"It was just a little better than my dad's and it's what I'm using now," Kaiden said. "It's so good, I don't feel much of a difference from last year when I had all my fingers. Mark did a really good job on the glove and he did it all on his own time. He didn't want me to pay him anything. He was really good to me."
According to Dela Cruz, Grehan, who has a bachelor of exercise and sports science (athletic therapy) degree from the University of Manitoba quickly understood the issues and went to work to create a glove that would give the young defenceman more stability.
Loading...
"We gave him a glove and we started working together," Dela Cruz said. "He fitted it properly on my hand and then he created a system where it kind of locks my hand to the stick. I'm a left-handed shot and it keeps my top hand firm on the stick. Surprisingly, this system is so good, I think I have a better shot now than I did before the injury. In my first four exhibition games, I had more goals and almost as many points as I had in my entire season last year.
"It's interesting, I think, but if anything, this injury has made me stronger. I play harder because things don't come as easy as they did to me and now I have to work harder."
Dela Cruz first held a stick at the age of one and started skating at two near his home in East St. Paul. He started playing Timbits at four and then River East Aces, Royals, Marauders AA and then two years of Sharks AAA before making the U17 AAA Thrashers two years ago and the U18 Thrashers last year. Next year, the Grade 12 student at River East Collegiate is expected to play for the MJHL's Selkirk Steelers.
"Kaiden was a draft pick for us two drafts ago and he's somebody we've liked for a long time," said Steelers head coach Hudson Friesen. "He's such a smart player. He has a high hockey IQ, really good on his edges and a really good all-around skater.
"He's so passionate about the game. He loves hockey and loves the game and wants to improve. We're really excited about his future and potential as a player and he's so mature, he's way ahead of other players his age just by the way he carries himself."
Loading...
It hasn't been an easy time for Kaiden's family. His 15-year-old brother Sage was released by the Thrashers, but fortunately, found a spot with the U18 AAA Bruins. Kaiden, meanwhile, has had to fight to overcome an injury that might have sidelined other players.
And, of course, because he didn't know when he might be able to play the game again, Kent MacInnis, coach of U15AAA Thrashers Blue, offered him an assistant coach's position with the team. So, now he is learning the coaching angle from MacInnis while still playing the game.
"They tried to reattach the fingers and couldn't," said his mom, Shawna Lounsbury. "He actually had an NAHL tryout that weekend in Chicago so, at that moment it was pretty devastating. He's already undersized, a 5-foot-8 defenceman, but plays like he's six feet tall and now he can only handle his stick with two fingers, but he attacked it head-on. When he came home, he was only concerned about what he could do, not what he couldn't do.
"So, he went to Selkirk Steelers rookie camp, made the main camp and played one exhibition game. He wasn't ready to play in the MJHL yet, so he'll play AAA Thrashers this season and most people can't tell. I can tell, I'm his mom and I can tell when he struggles, but most people can't tell anything has happened.
"Everything happens for a reason and you never know when events like this will happen. I told him that I thought he was a huge inspiration. Because he's undersized and he plays defence, he's always had to work hard to make his way, so this adversity is nothing new to him. This hasn't changed him."