Balmoral Hall Blazers' interim director of hockey and head coach, Regan Boulton, knows exactly what it means to have veteran leadership in a hockey team's locker room.
After all, when the Blazers won the Junior Women's Hockey League championship in 2019, thanks in no small way to the veteran leadership of captain Olivia Cvar, Kennesha Miswaggon, Megan Schroeder, Kathryn Lyon and Alix Yallowega, the roster was loaded with players who have gone on to post-secondary success.
Last year's team, the team that won the prestigious Mandi Schwartz Memorial Tournament for the second straight year, featured university-bound veteran stars such as Ella Stewner, Avery Pickering, Christmas Johnson and Anya Misner.
Loading...
As a star at BH herself, a solid player at NCAA D-1 Quinnipiac University and a professional in Europe, the head coach knows that good teams are made better with veteran leadership in the room.
Not surprisingly, this year's edition of the Blazers is no different from the great teams of the past.
With the likes of Jordan Nishi, Abby Pineau, Cailin Yackel and Morgan Smith in the room, the Blazers will have all the leadership they need.
"These four are the epitome of what it means to be a Blazer," said Coach Boulton. "They are all great players but even better people and teammates. The four of them are extremely tight-knit. At school, if you see one of them, you know the other three aren't far behind. They call themselves 'Diffuse' and it came from the four of them studying for a biology test. The coaching staff and the team are extremely lucky to have these four leading the way as three-to-four-year veterans on this team. They all know the ins and outs and what it takes to be successful on and off the ice. None of these four cut corners, they lead by example every day, and they play a huge role in the culture of our dressing room."
The players who will be leading the way are all veterans of the BH program and are all 2006s. Let's meet them, with comments by Coach Boulton:
4 JORDAN NISHI
// D // 5'8" // WINNIPEG, MAN. // GRAD YEAR: 2024
Committed to Merrimack University Warriors, NCAA D-1
Loading...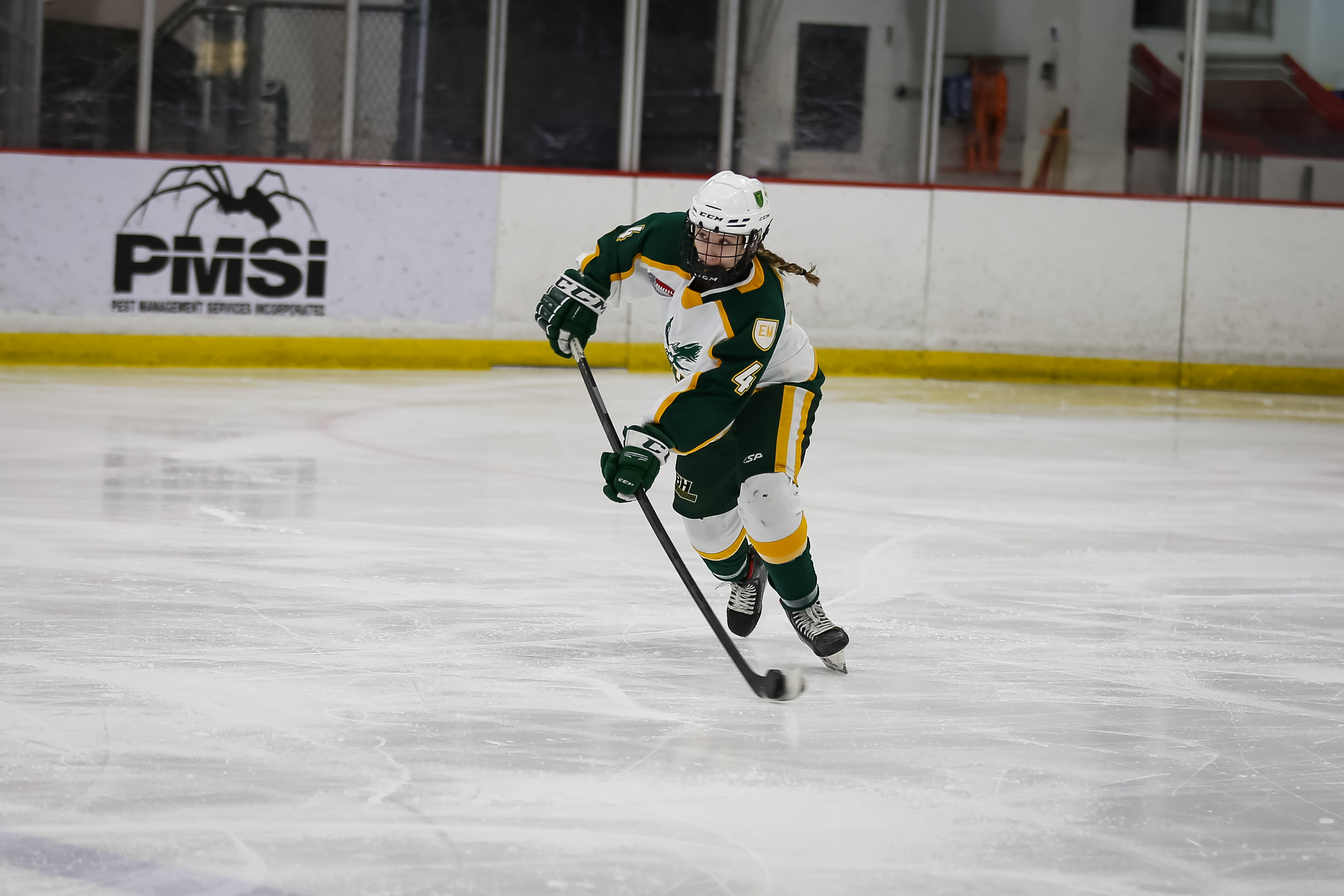 "Jordan is a strong, reliable defender," said Coach Boulton. "She has really developed her offensive game, is aggressive on the blue line and moves well to open herself up as an outlet. She is good at reading when to jump up into the play when the opportunity arises.
"Jordan is just as solid in the defensive end, she is very sound in our systems, she is calm in her positioning, especially with her stick which makes her hard to beat in a one-vs.-one situation. One skill that's not often discussed is the skill of communicating. Jordan is really good at talking to her teammates, calling for the puck, support, etc. It slows the game down for all around her.
"Off the ice, she is always lighting up the room. Jordan was voted one of the loudest on the team, she always knows how to get a smile on your face, even when you're not having your best day. She brings out the best in her teammates and brings so much positive energy every day."
12 ABBY PINEAU
// D // 5'4" // WINNIPEG, MAN. // GRAD YEAR: 2024
Loading...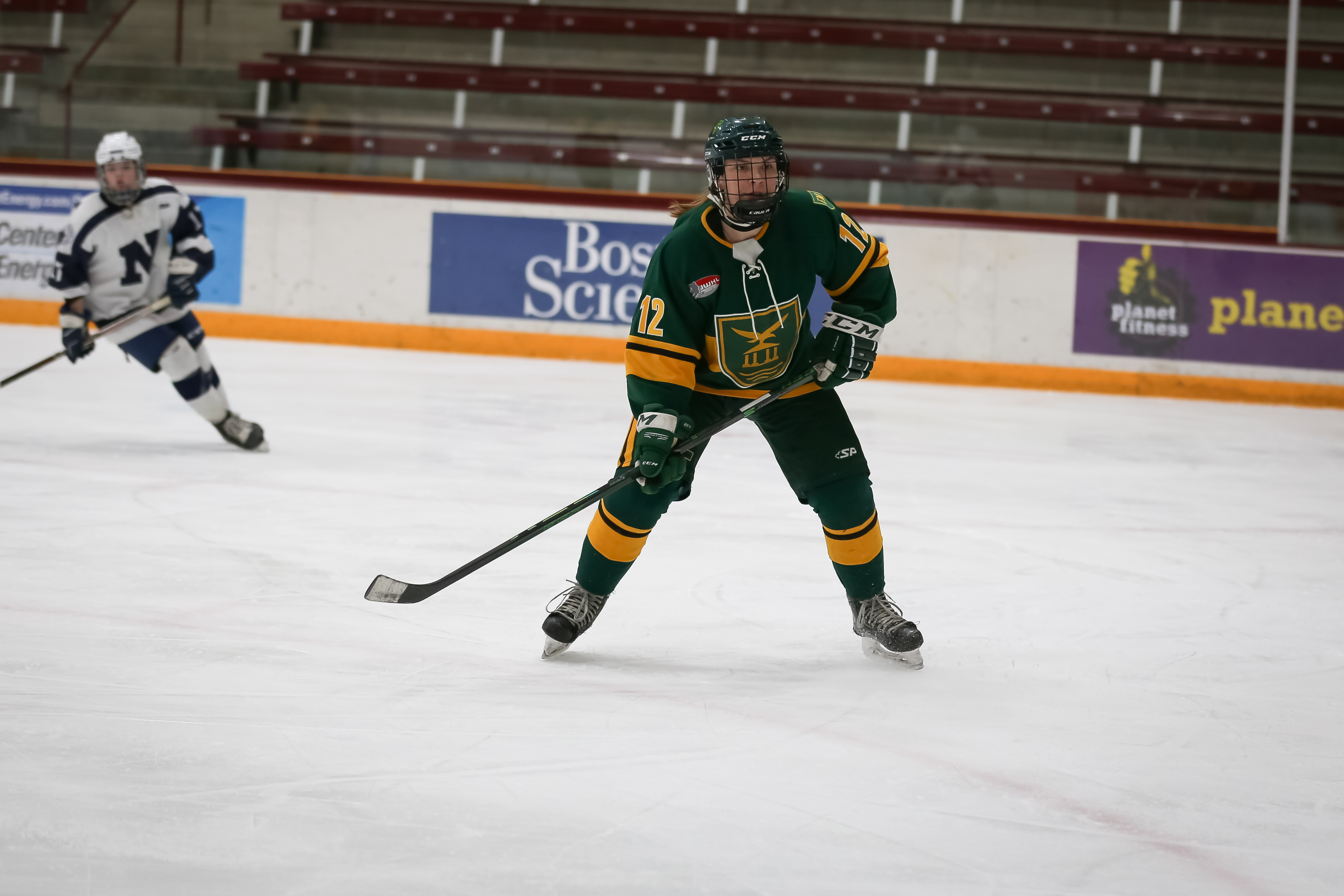 "Abby is a very well-rounded player," said Coach Boulton. "She has tremendous speed and agility on the ice and has proven to be extremely reliable. She takes care of the D-zone and has grown immensely in her offensive game. She is a defender, but played forward for us multiple times throughout last season and was very successful at it.
"Having the ability to play both positions is an extremely valuable asset to a coach and the best part about it is that she always wants to do what is best for the team. She is a true team-first player. There would be times where she would be playing forward during a game, but we would take a penalty and need her back on D for the PK. The versatility she has, to be able to jump from different positions and situations, is commendable.
"Off the ice, Abby is one of the first ones to ask if the coaching staff or team needs anything. She is extremely empathetic and truly cares about each and every member of our team."
10 MORGAN SMITH
// F // 5'7.5" // EAST ST. PAUL, MAN. // GRAD YEAR: 2024
Committed to Bemidji State University Beavers, NCAA D-1
Loading...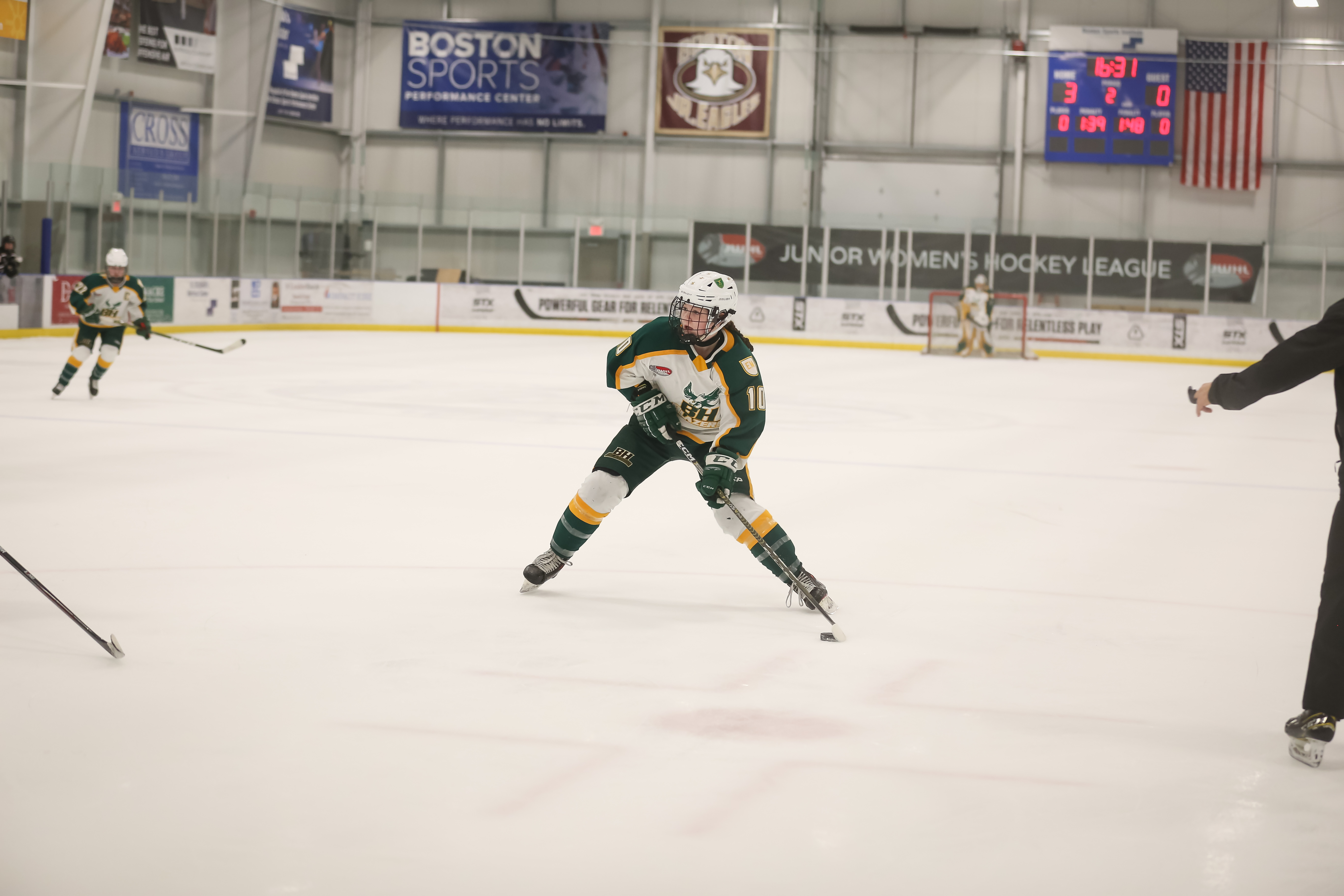 "Morgan is a 200-foot player," said Coach Boulton. "She is known for her offensive ability, finishing the 2022-23 season with 50 goals and 113 points in 52 games. However, that isn't the only impressive part of her game. She is relentless in all zones, she's physical and is never afraid to sacrifice and block a shot.
"Her hockey IQ is tremendous, constantly making the right play, whether it's to make the pass or take the shot, she is one of the most selfless players and in my opinion has solidified herself as one of the top forwards in Canada. Morgan is a student of the game, constantly watching video after games and looking for areas of improvement.
"Off the ice, Morgan leads by example in every way. From her academics, her workouts and her nutrition, she is constantly giving 110 per cent. She is often found helping others, offering advice and always makes sure everyone around her is taken care of."
18 CAILIN YACKEL
// F // 5'2" // WEST ST. PAUL, MAN. // GRAD YEAR: 2024
Loading...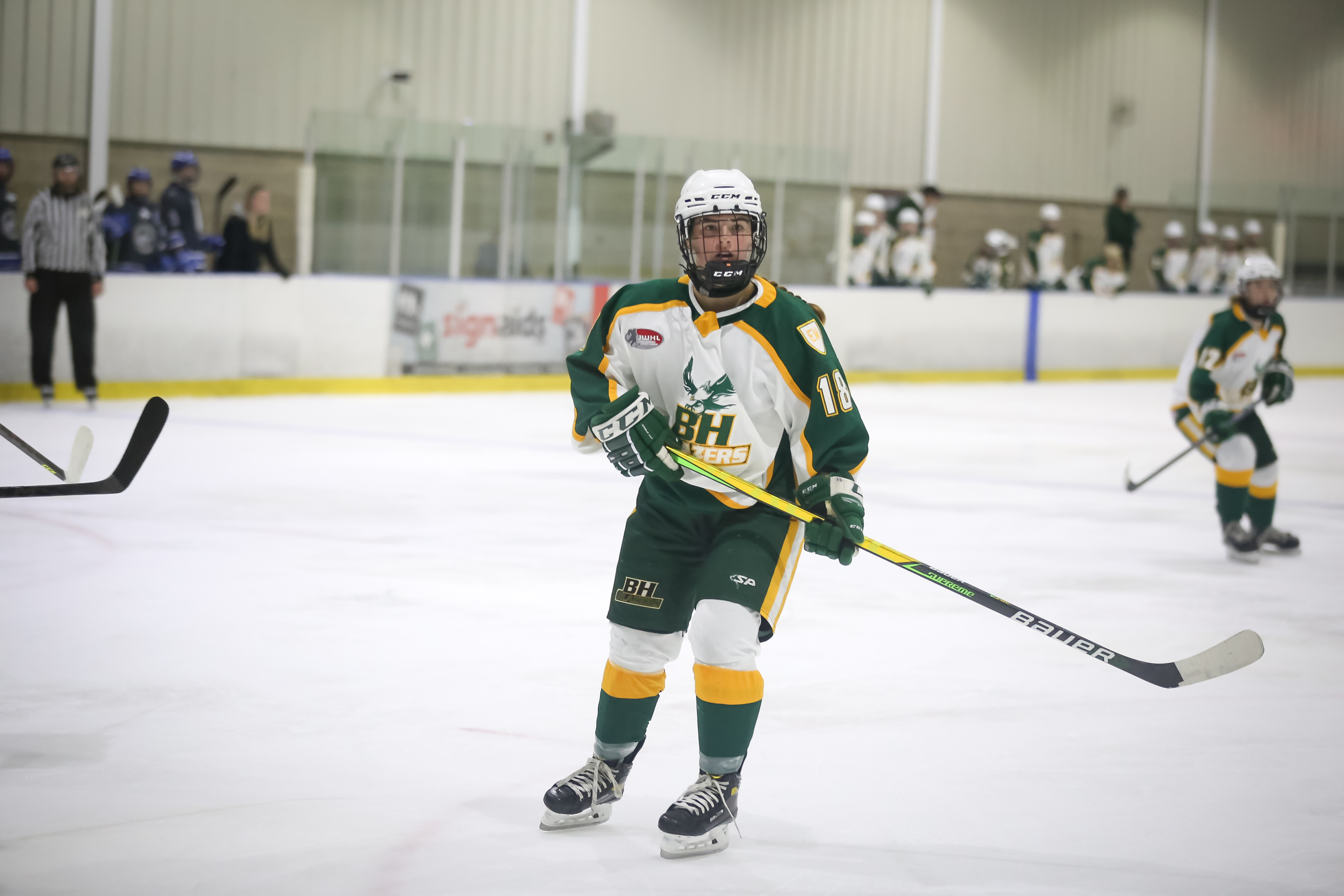 "Cailin is a very hard worker," said Coach Boulton. "She loves to battle, she doesn't let her size hold her back from competing with anyone bigger than herself. Cailin is a great defensive forward, she is often communicating with players on the ice if they are in the wrong position or need to make a switch, which shows her confidence in herself and her deep understanding of our systems.
"Cailin is very reliable on the PK and isn't afraid to get physical and she is also great on the forecheck, hunting down pucks and making it hard on the other team to break out.
"Off the ice, Cailin is an unbelievable teammate and leader. She was voted 'Team Mom' as she truly takes care of all of those around her. She is constantly going above and beyond on with the little things, like cleaning the room, picking up pucks and she never has to be asked to help out, she takes the initiative."