BOISSEVAIN'S GRACE GLOVER, WHO HELPED THE WESTMAN WILDCATS TO A CHAMPIONSHIP, WAS ONE OF THE FINEST GOALTENDERS EVER TO PLAY MFHL U18 AAA HOCKEY. NOT ONLY DID SHE WIN AWARDS ON THE ICE, BUT MULTIPLE SCHOLARSHIPS OFF IT. NOW A HIGH SCHOOL AND MFHL GRADUATE, SHE'LL REPRESENT THE LEAGUE AT THE UNIVERSITY OF ALBERTA THIS SEASON. SHE'S READY TO MAKE HER MARK.
Westman Wildcats head coach Guy Williams has an incredible level of respect for Grace Glover. It would be hard not to feel that way about one of the greatest goaltenders ever to play in the MFHL.
"Grace came to us years ago, just for some skates, as a U15 player," Williams recalled. "She was a small individual, but with a keen eye and a keen character. When she made our team as a U18 team player, she demonstrated an incredible work ethic.
Loading...
"She was always such a positive player and a real leader. She finally grew a little bit and was a testament to kids who have a goal, who want to make a team and who set high standards for themselves. She proves that lots of things are possible. She's earned everything she's accomplished."
Over the past two seasons, Glover has accomplished as much as many hockey players do in a career. She led her Wildcats' team to the 2022 MFHL U18 AAA championship and was named the playoffs' Most Valuable Player. This past season, she led the Wildcats to the league final again after winning Top Goaltender and Most Valuable Player during the regular season. She played for Team Manitoba in both 2022 and 2023 and was Manitoba's goaltender at the 2023 Canada Winter Games. In the summer of 2022, she was invited to Team Canada's national U18 camp.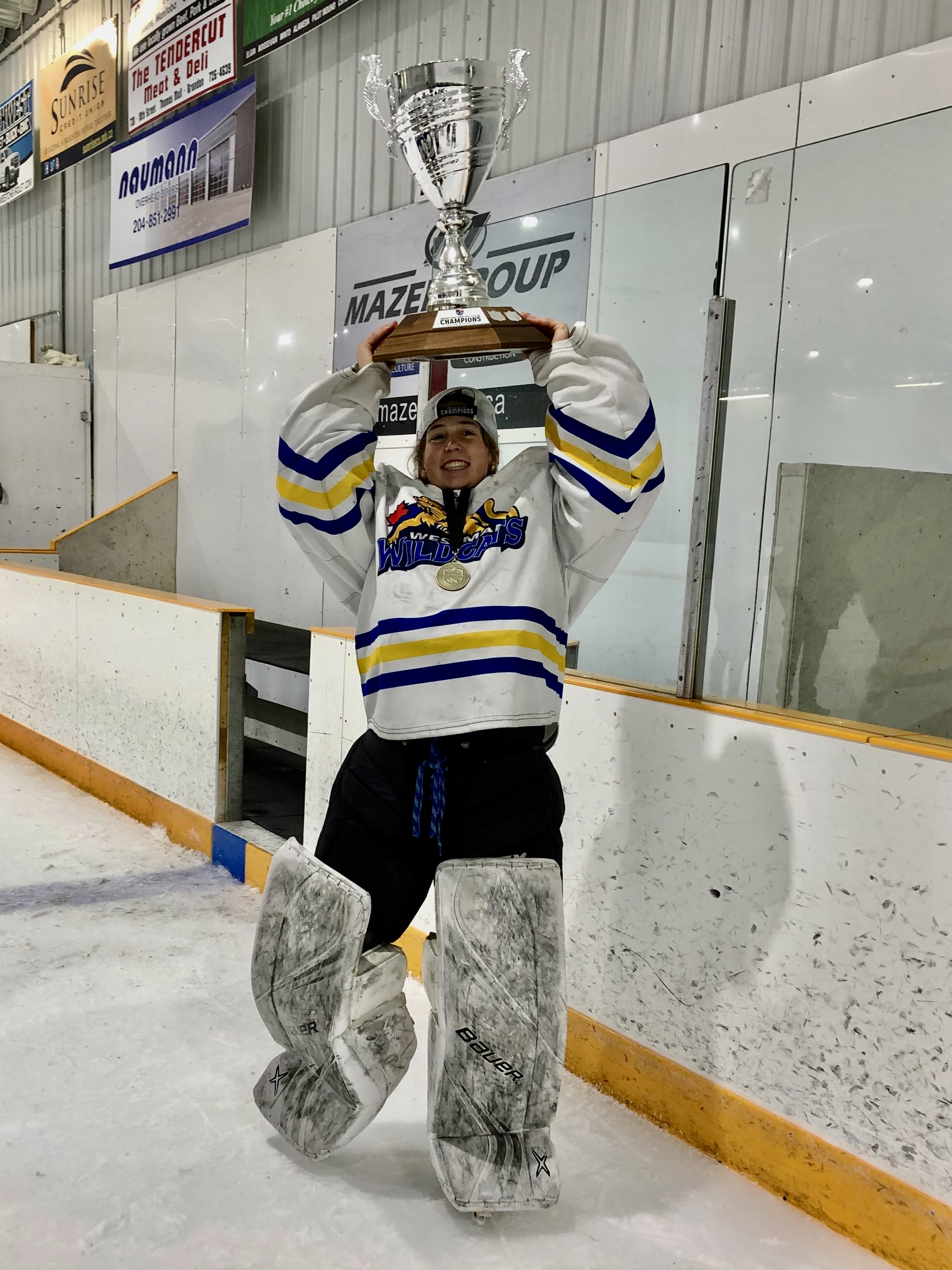 After winning two league scholarships – the Teammates Scholarship and the MFHL scholarship – and Hockey Manitoba's Buck Matiowski Scholarship, she also earned a hockey scholarship to play this season at the University of Alberta.
"I've had a really good couple of years," she said with a laugh. "I couldn't have done it without all my teammates and coaches who helped me out and especially my goalie coach. The Westman Wildcats coaches are amazing."
Now that she's left Manitoba behind to head west, Glover is excited about her future at the U of A.
"I chose Alberta because it was a very welcoming program," she explained. "They have a high level of compete in their program, as well. They have a really good coaching staff and players. All around, it's the kind of program that suits my personality and style of play.
"And it's been really good so far. We've settled in a bit. We've been here for a couple of weeks now. I was in a goalie camp with their goalie coach the first week I was here and then we were right into the end of the summer skates and the fitness testing and stuff. I've played hockey all summer. I took a couple of weeks off and then I was back at it."
Loading...
Glover started playing hockey when she was "five or six," in the Ninga Rec Hockey League. She always used to joke that she was playing in the NHL. In Novice, she started playing minor hockey in Boissevain – first, a couple of years of boys, and then she started playing girls' hockey in Glenboro for the Westman Falcons.
"I played up until my second year of Bantam," she said. "We had a double roster with the Westman Wildcats Bantam program so I played for Glenboro Minor Hockey and with the Wildcats.
"I started playing for Westman as a Bantam and then I played U18 from Grade 10 to Grade 12. In Grade 10, the season was cut short due to COVID and then in Grade 11, we won the championship and in Grade 12, we went to the championship final but lost to the Ice."
Glover, who obviously does very well in school, has begun a four-year elementary education program at U of A.
"Yes, I take school really seriously," she said bluntly. "The elementary education program can be difficult, but I've decided to spread out the four-year program over five years to take full advantage of my (USPORTS) hockey experience.
Loading...
"I did think about taking agri-business or something along those lines, but I decided I could live on a farm and be a teacher, but I couldn't teach and work in the ag industry. I get the best of both worlds this way."
A committed 4-H member, she's had success showing her family's Black Angus cattle throughout the province.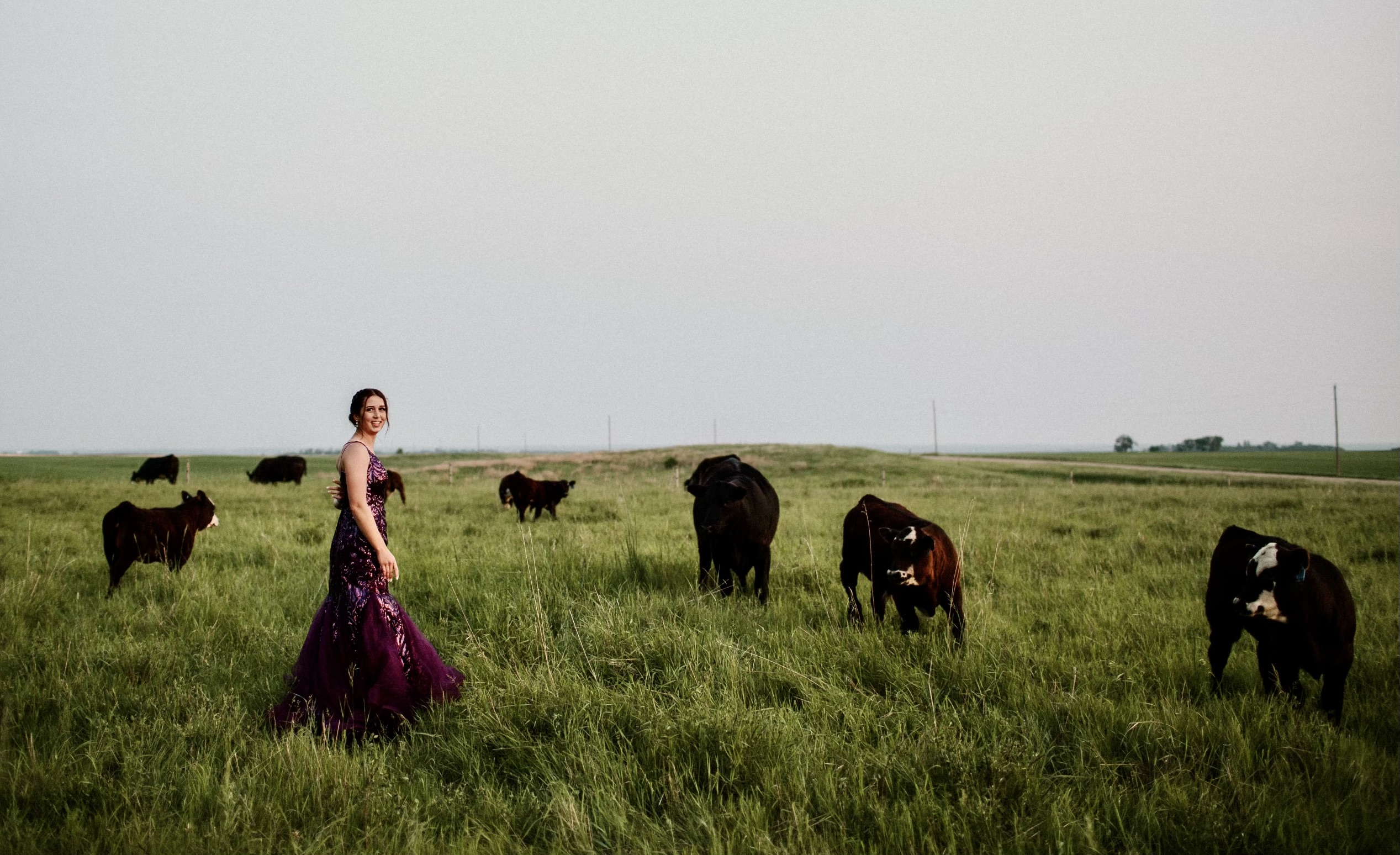 "I didn't do a bunch this last year because I was so busy with hockey but I do 4-H and next summer I hope to do a few jackpots and stuff. I'll have more time next summer when I get home in April. We have a small hobby farm. We have 10 cows, a Hereford bull and a couple of horses."
Her father, Dale, is a grain buyer for Viterra, while her mom Nanette works at Pringle's Sports Excellence in Boissevain.
"My parents helped with everything you could ever imagine," Grace said proudly. "All the driving hours, the equipment, expenses and everything I needed. They were a big help. I couldn't have done it without them."