Game On and Ice Wave Media photojournalist Scott Stroh has a fun story about 16-year-old twin sisters Kali and Lexi Remillard who play with the U18 AAA Eastman Selects.
"I thought I was being punked," said Stroh, who first met the Remillard sisters during the 2021-22 season when they were with the U15 AAA Selects. "I was doing their team photo shoot and I snapped Kali first. After a few other players cycled through, Lexi approached, and I told her, 'Nice try!' 'That was my sister,' Lexi said laughing. 'There are two of us.' Fooled me.
"They add a unique dynamic to the U18 AAA squad, and they're always fun to capture," Stroh added. "There has been the odd time that they've been on the ice at the same time (same shift), and my goal is to get a good shot of them both in the action this upcoming season."
Loading...
If you can fool a professional photographer with a great eye, you can probably fool anybody. Of course, the twins don't want to fool any college scouts. After all, they'd like to play university hockey and softball someday. They want to make sure they eventually get noticed.
"We also play ball for the U17 Eastman Wildcats," said Kali. "We've been playing ball for the last five years. We started in St. Malo, and we liked it and when we got a little older we found out there was a higher level we could get to. That's when we started playing with the Eastman team.
"Right now, ball and hockey are even for us. When it's hockey season we're like, 'We love hockey and softball is not that big a deal,' but once we get into softball season it's like, 'Oh, we love ball!' So, it's even right now."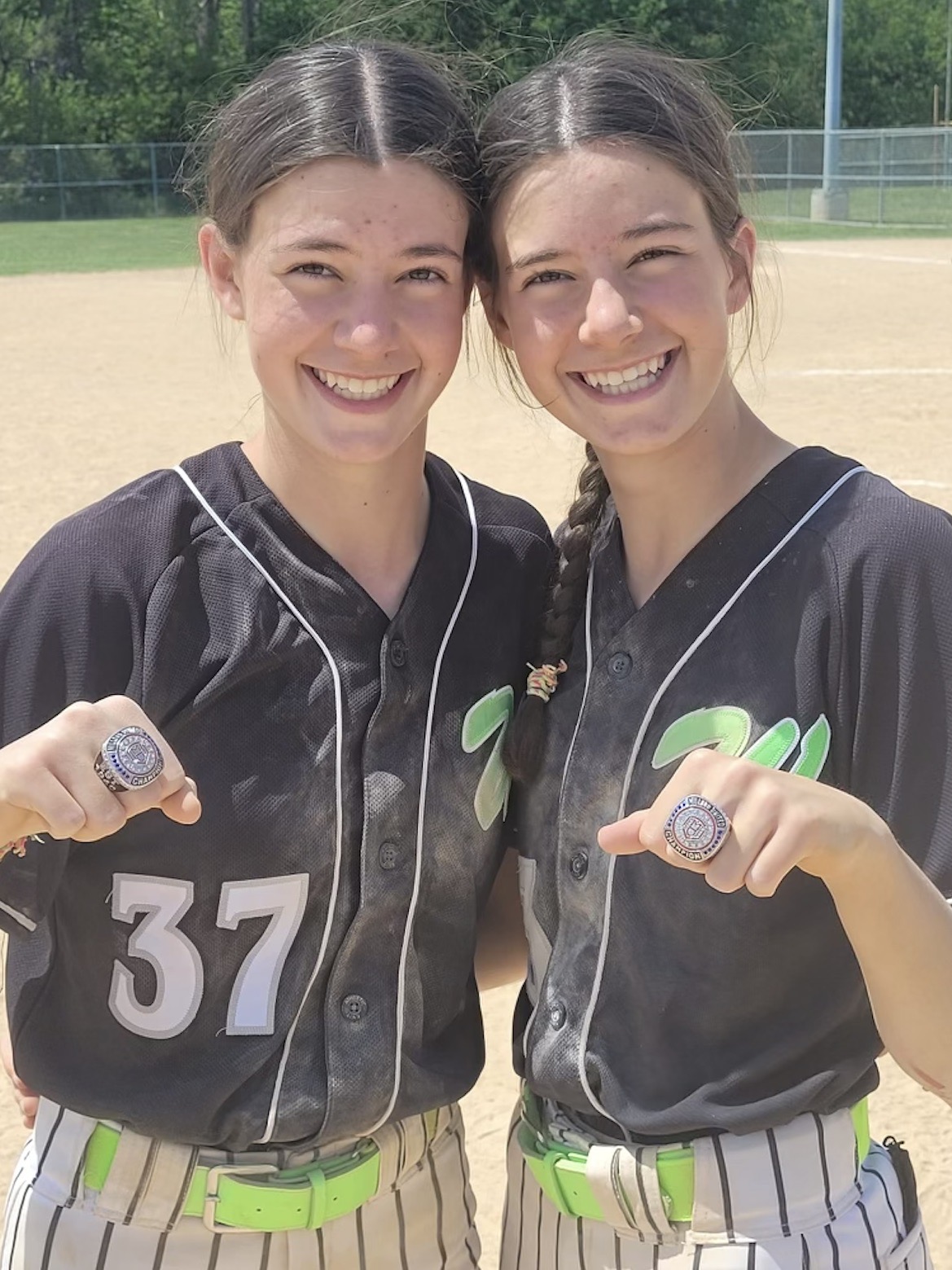 "What we're aiming for right now is that we'd like to play university ball and hockey."
Their head coach with the Eastman Selects, Todd Mason, believes they're both good enough to get a look from college scouts one day.
"Yes, they have a chance," Mason said. "They are gamers and they see the ice well. Coming up to their second year at the U18 level, I'm expecting great things.
"They are two fantastic kids from a great family. They are phenomenal competitors. They play high-level softball and obviously, they play high-level hockey."
Loading...
What impresses Mason about their approach to the game is their hunger for more work. They want to get better and it shows.
"You push the team," he explained. "Some of the players want more. The twins want a bigger push. We have a few of those types of players and Lexi and Kali are definitely part of that group. They always want more. They always want to be pushed harder, to develop more, get stronger. They are both near the top every time when we do fitness testing. They are amazing athletes, that's for sure. I can't say enough about the two of them."
It's not surprising that they have spent their relatively brief time in the game playing together and while it might be difficult to tell the Remillards apart off the ice, it's actually pretty easy once the game starts. Kali wears No. 5 and plays forward while Lexi wears No. 14 and plays defence.
"We were skating when we were very young, but we didn't start playing until second-year Novice, about nine years old," said Kali. "Things didn't start happening for us until we got to Atom and Peewee. We got a lot better. We played for Rat River and St. Malo and once we got to Peewee we were double rostered, playing both boys and girls hockey.
"So, we played girls hockey. Peewee was when girls' hockey started to be a thing for us, and then we got chosen for female prospects in Peewee. We had a hockey academy program in St. Malo from grades 5-8 so we skated there a lot. We also attended camps with GT Hockey Performance (with instructor Gerald Tetrault) and that was a big thing for us during the summer and even during the season. Once we got to U15, we played for Eastman and after that, we both played U18 for Eastman."
Loading...
This fall, the twins will enter Grade 11 at École Heritage Immersion in St. Pierre-Jolys. The daughters of Jason, also a hockey coach, and Roxie, they have a younger sister Sophie and a younger brother Zach.
"Our dad has coached us throughout the years since we were really young," Lexi said. "Along with a bunch of other dads from St. Malo. During the winter we'd build an outdoor rink and we'd spend a lot of time there practising skills and battling out there with our siblings."
Mason agreed that elite coaching is the reason the twins have become as good as they are in just seven years of competitive, organized hockey.
"Their dad, Jason, is a good coach," Mason said. "There has been a lot of good coaching in St. Malo. With Jason, Gerald Tetrault (GT Hockey Performance), my defence coach, Mark Dixon, and a group of other parents who are great coaches, the hamlet of St. Malo has been producing a lot of good hockey players.
"Including the Remillards, we have four players on our team from St. Malo. It's those kinds of coaches who keep our program alive. I'll tell ya, there's something in the water in Malo."